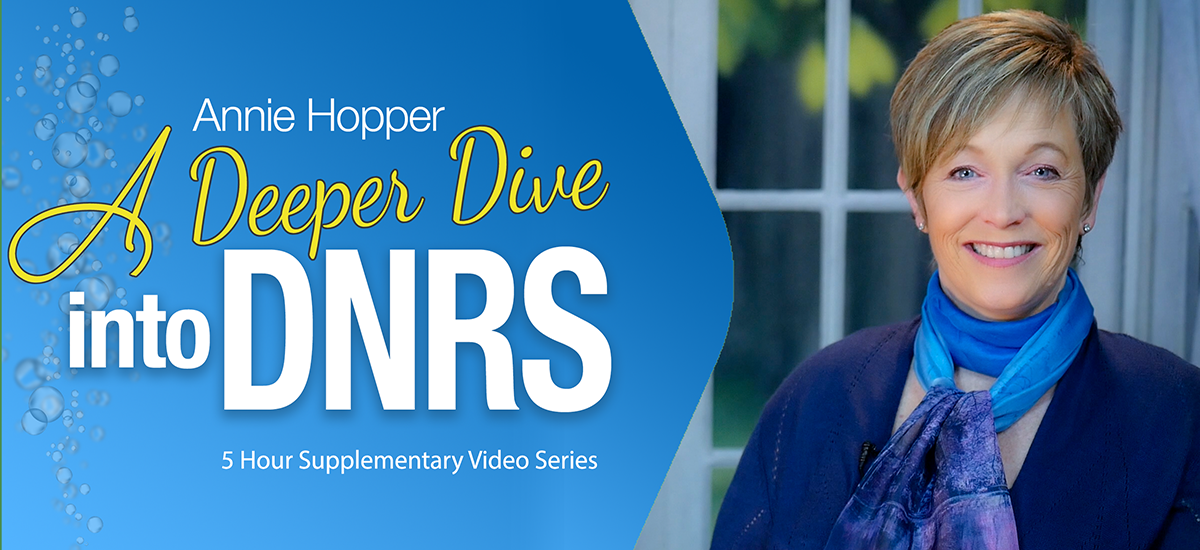 A Deeper Dive into DNRS
$79.95 USD
365 day subscription
Only available in streaming on-line video format
NOT available in DVD or download
Available in English Only
Only available to those who have completed the 14-hour instructional video (Online Course or DVD) or In-person Seminar
Add to cart
Description
Our online course requires internet streaming (Download) speeds of at least 3 mbps, and ideally a minimum of 5 mbps. To see if your internet connection meets this minimum requirement, please check with your internet provider or test your connection speed here. Click here for more info.
Course Overview:
Introduction
IMAGINE Imagine that you have the power to harness brain function and that this is the missing key in creating optimal health and well-being for yourself. In this first chapter – using the acronym IMAGINE – Annie explores the general concepts of limbic system rehabilitation included in the DNRS program. This foundational knowledge is important to remember when engaging in the program and will assist you throughout your recovery journey.
Introduction to the five pillars series
DNRS AND SELF-DIRECTED NEUROPLASTICITY
In this video, Annie introduces the concepts of self-directed neuroplasticity and DNRS as a form of limbic system rehabilitation. She also introduces the DNRS 5 Pillars of Recovery.
Pillar 1 – 14 Videos – Recognition of Limbic System Impairment
This first series of videos takes you on a deeper dive into the Pillar 1 of DNRS, understanding that a maladapted stress response and limbic system impairment is associated with your condition. It's important to understand how the limbic system functions in order to use neuroplasticity and the DNRS program to restructure your brain and regain a state of optimal health. Annie describes the function of the limbic system including the structures within the brain that are the focus of DNRS. She discusses the various forms of trauma that can adversely affect the limbic system, concepts of the DNRS program, describing how and why it works for so many conditions. This is a great review of the instructional video series and interactive seminars.
P1-01 – INTRO TO THE LIMBIC SYSTEM P1-02 – THE PERFECT STORM P1-03 – SYMPTOMS OF LIMBIC SYSTEM IMPAIRMENT P1-04 – SENSORY DISTORTION P1-05 – THE BRAIN STUCK IN FIGHT, FLIGHT, OR FREEZE P1-06 – THE DARK SIDE OF NEUROPLASTCITY P1-07 – THE CELL DANGER RESPONSE P1-08 – AUTONOMIC NERVOUS SYSTEM P1-09 – THE VAGUS NERVE P1-10 – AVOIDANCE AND THE BRAIN'S NEGATIVITY BIAS P1-11 – HOW MANY ARE SUFFERING? P1-12 – THE TWO TRUTHS P1-13 – EVERYTHING DNRS IS NOT P1-14 – PILLAR 1 INTERVIEWS
Pillar 2 – 4 Videos – Identifying and Interrupting all Pathways of the Past or "POPs".
In the next four videos Annie discusses the importance of stepping into the stance of 'curious observer' and learning how to identify patterns and distortions involved with limbic system impairment. She first reviews how to identify Pathways of the Past (POPs), then you will work through a limbic system trauma loop worksheet, step by step, and identify examples of different types of POPs. There are a number of tips for catching your POPs, and for redirecting using 'Popposites.' The Reticular Activating System (RAS) is also discussed. The bonus feature includes participants sharing their personal insights about implementing Pillar 1.
P2-01 – STEPPING INTO THE CURIOUS OBSERVER P2-02 – PATHWAYS OF THE PAST P2-03 – POPPOSITES P2-04 – PILLAR 2 INTERVIEWS
Pillar 3 – 7 Videos – Completing Full Rounds of the Limbic System Retraining Steps
In the next seven videos Annie focuses on Pillar 3, Completing Full Rounds of the Limbic System Retraining Steps for at least one hour per day. Annie talks about why it's so important to practice in the recommended way. She also shows you ways to customize some of the steps, and how to talk directly to your limbic system. Annie discusses your immediate goals in practicing the retraining steps and how this relates to the ebb and flow of recovery. provides some new examples of how to tailor the DNRS Retraining Steps for a wider range of conditions, not previously included in the instructional videos. In the Bonus Feature, several participants share their stories of recovery using the DNRS program and also speak about their personal experiences with implementing Pillar 3.
P3-01 – THE IMPORTANCE OF DOING FULL ROUNDS OF DNRS STEPS P3-02 – MODIFYING THE DNRS RETRAINING STEPS P3-03 – PILLAR 3 INTERVIEWS P3-04 – SAMPLE STEPS: MICHELLE P3-05 – SAMPLE STEPS: CONNIE P3-06 – SAMPLE STEPS: RILEY P3-07 – SAMPLE STEPS: PAM
Pillar 4 – 6 Videos – Incremental Training
Pillar 4, Incremental Training is covered in the next six videos. Incremental training is a form of neural shaping that helps to strengthen healthy neural pathways. Annie discusses why it's a key component of limbic system rehabilitation. She also discusses topics such as, how to practice with 24/7 'ITs' and how to retrain if you're experiencing a range of conditions. In order to recover, it is not always necessary to incrementally train with each specific condition or sensitivity. In addition to the videos on Incremental Training, this section also includes a sample incremental training plan for food sensitivities. The bonus feature includes participants speaking about their experience implementing incremental training and recovering from various conditions using DNRS.
P4-01 – WHAT IS INCREMENTAL TRAINING? P4-02 – INCREMENTAL TRAINING WITH 24/7 ITS P4-03 – INCREMENTAL TRAINING FOR FOODS P4-04 – INCREMENTAL TRAINING FOR ANXIETY P4-05 – INCREMENTAL TRAINING FOR POTS P4-06 – PILLAR 4 INTERVIEWS
Pillar 5 – 6 Videos – Elevating Your Emotional State
In the next six videos Annie explores Pillar 5, Elevating your Emotional State. This is an inherent part of the DNRS program and assists in changing your brain, both chemically and structurally.
Deliberately elevating your mood
during the DNRS retraining steps, and throughout the day
changes your brain chemically and paves the way for structural changes.
Annie describes
the rationale behind redirecting your limbic system
toward a positive emotional state, and the detrimental effects of
excessive focus on negative emotions.
Emotional addictions, limbic system resistance and how chemically changing the brain can help prevent the impulse for negative rumination will be covered. Several ideas will be suggested for elevating your emotional state during the retraining steps, as well as throughout the day. A bonus feature includes a compilation video highlighting several past participants sharing how they incorporated Pillar 5 into their recovery journey.
P5-01 – ELEVATE YOUR EMOTIONAL STATE P5-02 – HOW RUMINATING IN NEGATIVE EMOTIONS AFFECTS THE BRAIN P5-03 – NEGATIVE EMOTIONAL AND THOUGHT PATTERNS CAN BE A SYMPTOM OF LIMBIC SYSTEM IMPAIRMENT P5-04 – THINKING GREATER THAN HOW YOU FEEL P5-05 – HOW TO ACCESS POSITIVE EMOTIONS P5-06 – PILLAR 5 INTERVIEWS
Bonus Section
BONUS SECTION ONE – 2 Videos
THE EBB AND FLOW OF RECOVERY In this bonus section of the Deeper Dive series, both Annie and past participants describe the normal ebb and flow of symptoms during the recovery process, and how to continue to successfully move forward during these times.
B0-01 – RECOVERY IS NOT A LINEAR PROCESS B0-02 – EBB AND FLOW OF RECOVERY INTERVIEW
BONUS SECTION TWO: DNRS AND PARENTS – 1 Video

DNRS AND PARENTS In the last video of the series DNRS facilitator Jana Smith shares how to effectively implement DNRS while fulfilling your role as a parent and supporting your children if they also show signs of limbic system impairment.

B0-03 – DNRS AND PARENTS

Additional Information about accessing the online course:

A strong internet connection is required for optimum performance, speeds of at least 3 mbps, and ideally a minimum of 5 mbps. [Click here to test your internet speed] You can access A Deeper Dive into DNRS online course if you are:
In one location
On a home / work / shared Wi-fi (Not a mobile network such as 3G, 4G, 5G or LTE)
Connected to one network per session (Don't keep bouncing to your neighbours Wi-fi while in one corner of your house)
You will likely experience issues if you are:
Traveling down the freeway while accessing our system / courses, or constantly in motion
In an elevator, parkade or concrete surroundings
Connect to many different networks in your neighborhood / building
If your IP Address is constantly changing, you may need to ask your ISP Provider for a static IP. Many provide this option for free, but some may charge a fee.